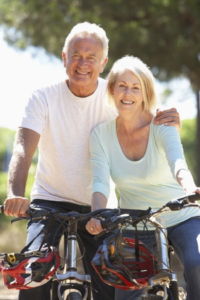 Did you know that high protein intake can help you lose weight and improve cardiovascular health? …  If you live in Toronto, Mississauga, Oakville, Milton, Burlington, Hamilton, or Niagara you might consider our advanced clinical nutrition approach for healthy aging and longevity.
Research now suggests that high protein intake can help us maintain healthier weight while sustaining lean body mass.  High protein low carbohydrate diets are associated with healthy blood pressure, better sugar regulation and better cholesterol balance.
US researchers Stefan Pasiakos et al assessed recent 2001-2010 data from the National Health and Nutrition Examination Survey and found that higher than RDA protein intake can help raise good cholesterol (HDL) and reduce your waist circumference and body-mass index.  They also found that this diet helped normalize blood pressure and sugar levels.
Balancing the optimal metabolic needs of our aging body is also consistent with our definition of longevity.  Exercise is also one of many longevity lifestyle principles.
A good optimal health intake guideline is to maintain 40% protein, 40% carbohydrate, and 20% fat.  By contrast, typical health guidelines recommend an intake of 45%-60% carbohydrates; this is considered too high by many.
High Protein for Weight Loss
Several nutrient and metabolic factors are also associated with weight gain.  Weight loss is especially problematic for those that maintain the typical North American high carbohydrate diet and have a slow metabolism.  Higher protein intake is a key factor here because it allows for more even sugar availability to help us maintain consistent daytime energy while preventing excess carbohydrates conversion to fat.
Maintaining adequate protein and fiber intake can help you stay fuller longer and for those that over eat, this can act as an appetite suppressant.
Heart Health and Other High Protein Benefits
As mentioned above heart health is associated with normalizing metabolic risk factors.  Heart health is also dependent on balancing several nutrient and metabolic factors including the maintenance of adequate B12 and copper and, maintaining adequate thyroid function.
The lack of sustained blood sugar is associated with tiredness, irritability, a greater need for stimulants, and behavior and mood imbalance.
Is High Protein Dieting Safe?
Stefan Pasiakos et al (mentioned above) commented that 'consuming protein well above the RDA is safe and may be considered a valid nutritional strategy to improve cardio-metabolic health'.
Meat or egg sources of protein are considered the highest quality sources of protein.  These protein sources are also high in cholesterol and although many argue that this is unsafe, researchers are now saying otherwise.  Egg consumption for example, is no longer considered a risk factor for cardio-vascular heart disease.  Only 20% of a person's cholesterol comes from food.
Low cholesterol health risks are now becoming more well-known; they include greater likelihood of infection, hormone deficiency (sex hormones, cortisol), inadequate fat digestion, inflammation (including brain inflammation), and mental state changes (Alzheimer's).
The Best Protein Sources
Meat from animal or fish sources helps you maintain Iron and Vitamin B12.  Deficiencies in both these nutrients are extremely common in clinical practice.
Higher quality protein includes meat and eggs.  Avoid meat with preservatives as much as possible.  Leaner meat is a better choice especially if you are a slower metabolizer; this accounts for about 80% of the population.  You can achieve a more even supply of blood sugar by consuming high protein snacks between meals.
————————————————
The BodyMindLink series by Dr Ray Pataracchia ND provides insight on Naturopathic approaches that matter and have the potential to benefit general and mental health.   Clinical approaches discussed are implemented by the Naturopathic Medical Research Clinic (NMRC) in Toronto, Ontario.  Our clinic treats a wide array of health conditions.
Disclaimer: Information provided is not to be used for self-assessment, diagnosis or treatment.  We advise readers to discuss these topics with their health care provider or book an appointment with our Toronto clinic.