Orthomolecular Treatment of Schizophrenia
Schizophrenia is associated with specific nutrient deficits and physiological imbalances.
The orthomolecular treatment of schizophrenia involves correcting the biochemical imbalances illustrated below.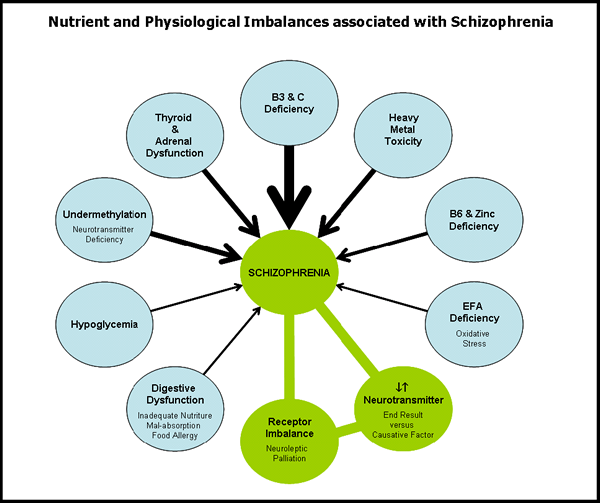 Our orthomolecular nutrient-correcting protocol for schizophrenia has shown a track record of consistent positive response in a wide spectrum of mental health conditions.  This includes the significant portion of First-Episode Schizophrenic (FES) patients that we have treated.
By assessing patients with specific lab tests and targeting our treatment accordingly, we have found that a significant portion of patients are good responders.
One of the early signs in a good responder is smiling and being involved and motivated to participate in family life.
Good responder reports include:
"the difference is like night and day"
"we've got our daughter back"
"I feel like a new person".
My REVIEW ARTICLE ON SCHIZOPHRENIA – 2008 – Part 1 and REVIEW ARTICLE ON SCHIZOPHRENIA – 2008 – Part 2 publications in the Journal of Orthomolecular Medicine describe the approach and how respective nutrient and physiological imbalances can be treated.
Naturopathic Medical Research Clinic, 2300 Yonge St, Suite 1600