Our Blogs
We have two blogs, one discussing General Health and Nutrition & the other discussing Mental Health and Nutrition
General Health matters are discussed in our BodyMindLink blog series.

The BodyMindLink series by Dr Ray Pataracchia ND provides insight on Nutritional and Naturopathic approaches that matter most and have the potential to benefit both your physical and mental health.  In this series we look at the treatment approaches and body-mind-links of aging, tiredness, mental performance, work performance, digestive problems, food intolerances, stress, cardiovascular health, insomnia, weight problems, and chronic disease.
Winter 2014-2015 blog themes rotated between the topics of longevity, immunity, and weight problems.  Spring 2015 blog themes rotate between the topics of Detoxification, Cholesterol Imbalance, and General Physical Health Syndromes.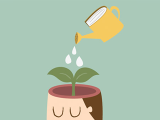 Optimal Mental Health matters are discussed in our MindCheck blog series.

MindCheck provides in-depth information on Orthomolecular and Naturopathic approaches to achieving mental health.  This series by Dr. Ray Pataracchia ND is endorsed by the Mindful Network – A Better Future for Children's Mental Health.  Here we explore Naturopathic and Orthomolecular nutrient and lifestyle perspectives on mental health syndromes.  In this series we look at the treatment approaches and nutritional links associated with mood, depression, anxiety, bipolar, behavior, ADD/ADHD, OCD, ODD, PTSD, schizophrenia, insomnia, stress intolerance, mental health lifestyle, burnout, mental health fatigue, coping, first-episode psychosis, holiday stress, mental health thyroid syndromes, pyroluria, histamine, open-dialogue therapy, right brain dominance, introspection, and mental health protein deficiency syndromes.
Advanced Niacin Therapy offers hope and aims to alleviate the devastation that patients and their families experience with this condition that we call Schizophrenia. ADVANCED  NIACIN  THERAPY Advanced Niacin Therapy is a new orthomolecular protocol tailored for...
read more